Our priorities are
Environmental protection
& customer service
Mission
To be the most competitive contaminated soil management site in Quebec offering the widest range of services with cutting edge environmental technoly and practices.
Values
Operate our site to the highest standards according to the regulation in force while protecting the environment.
Vision
Promote good practices in the contaminated soil management industry. Encourage innovation in research and development in partnership with local universities to improve our practices. Improve the environment for future generation leave the land less polluted for future generations.
Modernization Projects
By 2022, Signaterre Environnement is planning the construction of a new soil treatment centre that will double its present processing capacity.
This more modern design will optimize operations to a wide range of soil treatment technologies. The new Soil Treatment Center will be made of compacted rolled concrete. Different technologies, such as bio ventilation, chemical oxidation, extraction of volatile and screening segregation can be applied and combined into a technological sequence. Thanks to significant investments,
Signaterre Environnement will become the most versatile soil management centre in Quebec.
Our site will have the highest industry standards using a wide range treatment technology.
Other Signaterre Environnement projects will be added later...
Technical
Design
Section of a Maximum
Security Landfill Non-treatable soils are confined in our maximum security cells. These cells are built on natural clay beds and have a multilayer sealing process. Leachate, or residual liquid produced by the passage of water through the soil, is treated and analyzed before being discharged into the river. Our cells are approved by the United States Environmental Protection Agency (USEPA) regulations as described as a Resource Conservation Recovery Act (RCRA) Subtitle C landfill.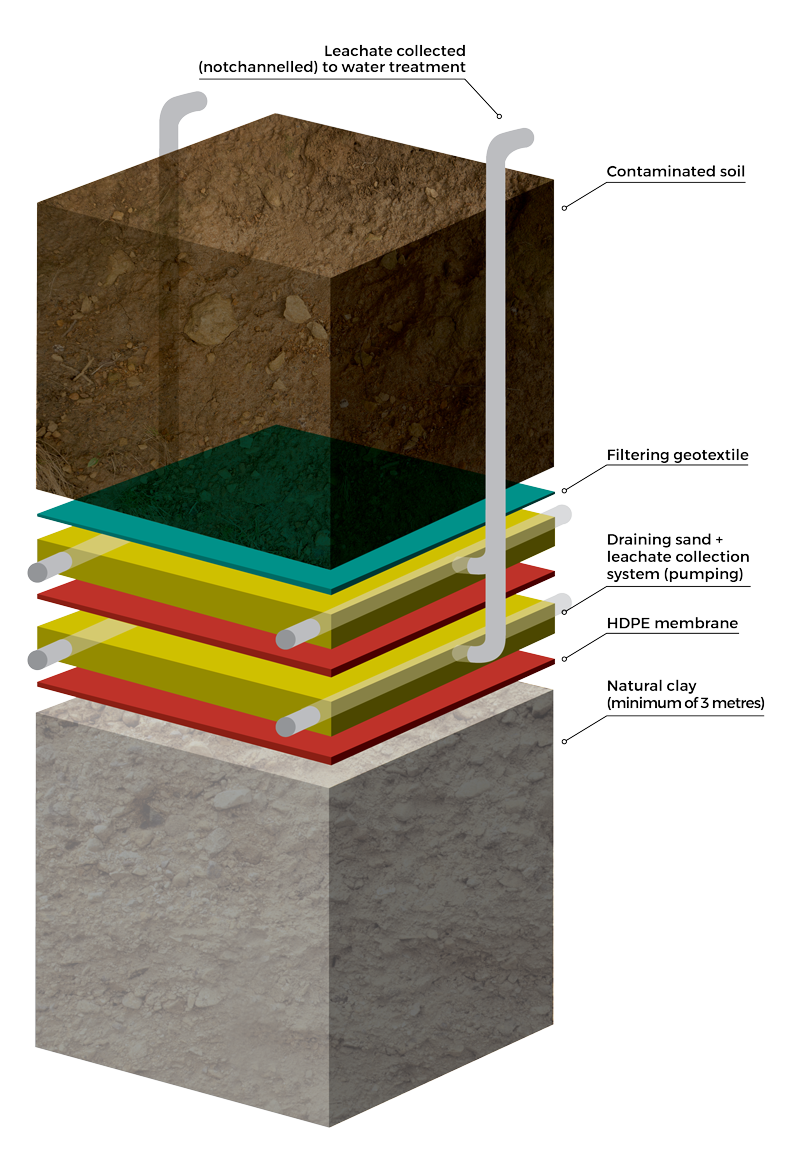 Description of the
different soil treatment
methods at
Signaterre Environnement
BIOVENTILATION
Control of airflow and moisture allows bacteria to decompose some organic contaminants.
CHEMICAL OXYDATION
Controlling the chemical composition of a soil, combined with the controlled application of oxidizing products, breaks down the carbon chains of certain contaminants.
EXTRACTION
The passage of air through a soil can extract volatile contaminants. The air is then carboned filtered.
SCREENING & GRANULOMETRIC SEGREGATION
Utilized to prepare the soil for a final treatement as required.
Environmental Follow-Up
Environmental monitoring in compliance with regulation and site permmit are put in place for the following:

Treated Water | Ground Water
Surface Waters | Ambiant Air
Signaterre Environnement © All rights reserved / 2020